We work with Brick, Block, Stone, Concrete (and associated products), and specialty masonry materials. 

Redmon Masonry will walk you through the inspections and speak with your architects/engineers or get ours' on board.

 We can remove old masonry, address structural issues and rebuild it better than before. 

This patio had settled over 4" in the center due largely to improper back-fill during it's original construction (photos to right and below).This site is in The Oaks on the Chapel Hill / Durham line.

Removed Old Fill add New Back-fill.

Rebar Mat with Vapor barrier.

Finished Patio with a Herringbone pattern using Brick pavers and new Concrete base ready for a lifetime of use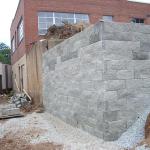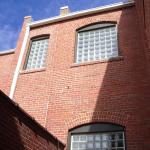 Wheelchair accessible walkway and patio 

Stone walkway meeting brick

Serpentine sit-wall with brick paver patio in a herringbone pattern

Glass block for the Carrboro town hall

Versa-Lok Block Circular Garden (More photos coming soon) 

Custom Design Brick Grill with Tennessee Stone Tread Countertop 

Slate Wrapped Set of Steps